Sydneys #1 Accredited Colorbond Roof Replacement Specialists
Not only do we offer high quality Roof Replacement in Sydney, our team also offer a wide range of other metal roofing services to suit every need and budget. With over 30 years experience, you can trust us to replace your old roof with one that is highly durable and attractive. We have the best metal roof replacement service in Sydney and are proud to be 100% Australian owned & operated.

Request A Free On-site Estimate
Send Your Roof Replacement Enquiry Here 👉
We will be in touch with you right away!
About Our Roof Replacement Company In Sydney
The Roof Replacement Specialists in Sydney
Are you thinking of upgrading your old roof with a new Colorbond roof replacement in Sydney, but not sure of which company to trust? Well, stop looking and give us a call right now! Our team is the best you can find in Sydney, and all our roofing contractors have years of experience under our belts.
At Sydney Roof Replacement Services, we provide top quality metal roof replacements. We have the most trusted team of professionals who can design and replace your old tile, asbestos or rusted roofs with new Colorbond ones without any hassle. Being one of the most established roofing companies in Sydney, we can provide quick turn around times without compromising on quality.
Our Sydney Roof Replacement Services
We Provide Superior Roof Replacement Services in Sydney
Additional Roofing Services in Sydney
Sydneys Most Trusted Metal Roofing Company
We are here to provide top-notch roofing services in Sydney, Australia. Whether you're renovating your Sydney property, wanting upgrades to an old roof or perhaps building a new one, you need a roof that is going to last and look great for years to come. 
Experts in Full Roof Replacements
Our expert team of roofing contractors provide one of the best solutions for roof replacement in Sydney. We have the experience and knowledge needed to meet all your requirements, no matter the size or complexity of the job. This includes extensions, tile to metal reroofs, flat metal roof replacements, and much more.
Our company has been providing top quality service to the residential sector since 2003. We are committed to providing you with a first-class, professional and efficient metal roofing service at all times. Get in touch with us today to discuss your upcoming roofing project in Sydney.
Six Reasons For People Choose Us For Roof Replacement In Sydney
Frequently Asked Questions About Roof Replacement In Sydney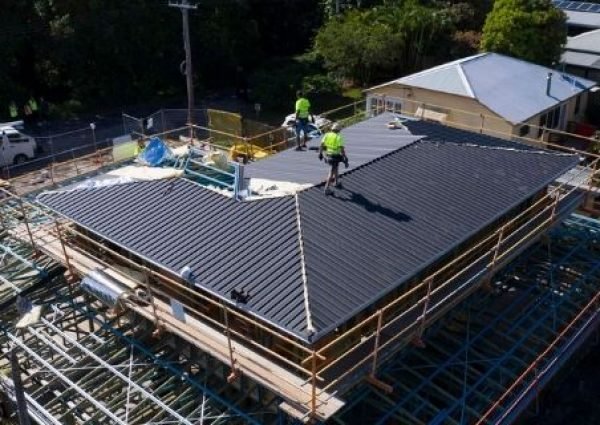 Don't Know What To Start With?
Get In Touch With Us To Discuss Our Roof Replacement Sydney Services
Request A Free On-site Estimate
Send Your Roof Replacement Enquiry Here 👉
We will be in touch with you right away!